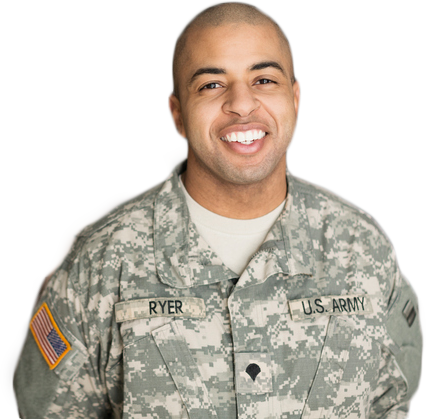 Start your quote for a
VA Home Loan
Use the benefits earned through your military service to get a loan for
$0 DOWN
Get the benefits you deserve and secure your dream home.
Receive lower interest rates.
Did you know that the VA loan has had the lowest average interest rate on the market for consecutive years?
Discover more generous terms.
VA-backed purchase loans can provide generous terms for individuals otherwise not able to secure a home loan at an affordable rate.
Realize the dream of home ownership.
Cut out your own slice of the American dream without breaking your budget.
Build a solid financial foundation.
Use a VA loan to build a strong history of improved credit and stabilize your budget for many years into the future.
What ​You Need to Know About VA Loans
According to a press release at Business Wire, VA purchase loans increased in 2018 from 2017, up 59%.

The trend is pointing upward for veterans who need to secure mortgage loans for their dreams of owning their own home. With a massive increase in 2018, it's clear that more and more veterans are opening their eyes to the impressive benefits of VA-backed loans.

In the fiscal year of 2018, the VA backed over 600,000 loans at a total of $161 billion.

There are plenty of veterans like yourself who have not only used the VA to secure home purchase loans, but are doing it successfully to realize the dream of American home ownership.

As Magnify Money reported, FHA and VA loans account for almost a quarter of all loans throughout 2017 and early 2018.

Even more exciting? These loan programs were the only ones that grew throughout the period, suggesting that this is a unique time to take advantage of VA loans to secure home ownership.

According to Ellie Mae, a mortgage software firm, the VA loan has had the lowest average interest rate on the market for 53 consecutive months.

Not only are the VA loans helping hundreds of thousands of veterans like yourself, but the quality of these loans continue to makes them more enticing for anyone dreaming of home ownership at affordable rates.
Are you ready to join the ranks of the VA homeowners and receive the benefits you deserve?
Frequently asked questions
Q: What is a VA-backed loan?

VA-guaranteed loans are loans made by private vendors, similar to other loans you might use to make a home purchase. However, because these loans include guarantees for the vendor, they're better able to provide loans for veterans with low income at generous financial terms.

Q: Do VA loans come with a lot of red tape?

They're surprisingly simple. There's a reason so many people have been able to utilize their VA benefits to secure a VA loan – and many of the mechanisms surrounding these loans are the same for any private loans.

Q: How much can I borrow with a VA loan?

If you have full entitlement, you don't have a home loan limit

Eligible Veterans, service members, and survivors with full entitlement no longer have limits on loans over $144,000. This means you won't have to pay a down payment, and we guarantee to your lender that if you default on a loan that's over $144,000, we'll pay them up to 25% of the loan amount.

You have full entitlement if you meet either of the requirements listed below.

At least one of these must be true. You've:

Never used your home loan benefit, or
Paid a previous VA loan in full and sold the property (in this case, you'd have your full entitlement restored), or
Used your home loan benefit, but had a foreclosure or compromise claim (also called a short sale) and repaid us in full

If you currently have a VA loan, reach out to us for more details about entitlement and eligibility.
Q: Do I have to use fixed rate terms for my VA loan?

Not necessarily. Both adjustable rate and fixed rate loans are available – the same choice offered to anyone seeking a private loan. Your individual circumstances will vary, but both types of loans have advantages and disadvantages that may suit your specific situation in different ways.

Q: How complicated is the VA loan process?

It's simple enough for over 600,000 loans in 2018! The VA loan process is much less complicated than you think, as there are plenty of private vendors who are experienced in VA loans who will be able to help you along the journey.
How to get started with a VA Loan
Imagining a lot of red tape? A painful process? A rejection letter?
Put those fears to rest.
The VA loan can be one of the most highly beneficial ways for veterans like yourself to secure the home of their dreams. These are unique loans, but they're even easier to procure than standard loans because of the backing of the VA.
If you believe it's time for you to take full advantage of your veteran's benefits, let's get the process of home ownership started as simply as possible.


Kerri, was very knowledgeable and very helpful through this process, I would definitely recommend her and 1st choice mortgage. Great team!
- Cynthia P.


I really appreciated how quickly Kerri responded to any questions that I had. I felt extreemly confident in her knowledge but moreover she was so kind and patient . I highly recommend working with her.
- Susie M.


As a first-time home buyer, I couldn't have chosen to work with a better mortgage broker. Jerry and his team helped us get a great rate on our home. Closing costs were incredibly low. Even my agent was impressed. I couldn't be more satisfied with the entire experience. 1st Choice Mortgage is top-notch and I will be recommending them to everyone that I know.
- J.R. Bauer


Kerri made my refinancing easy and was a delight to work with. She saved me a ton of money and I didn't have to get bogged down in paperwork or calls to do it! She is always available and always keeps me informed. She's THE BEST!
- Catherine R.
Speak with a VA Home Loan Specialist today
Representatives Available 24/7 to Better Serve Troops Overseas
A VA approved lender; Not endorsed or sponsored by the Dept. of Veterans Affairs or any government agency.